Internet Centre
Internet centre
In response to Library Electronic Access Project [LEAP] which was proposed by the Consultate of the United States of America in Ukraine, an Internet Center was created in the library for 6 work places and integrated into the library's structure. The Internet Center offers an opportunity to work online on the Internet, free of charge; search for information on computer browsers; receive factual, analytical and thematic information; and utilize electronic mail (E-mail) and catalog "Internet Research Sources".
IT studies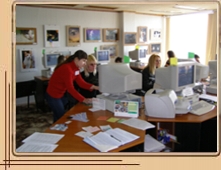 On its premises, the Internet Center conducts classes in its "School of Information Technology" for various groups of users.
Since 2006, classes have been conducted for the "Introduction to the Internet and Practice on Information Searches in a Global Network" for groups of school children, lyceum pupils and students.
For experienced users and cybernetics students, there is a program of practical study "Search Information Technologies for the Internet; a forum as a means of exchanging experiences and relating".
For readers, there are also adaptive courses for various purposes. For example, "Working with Electronic Mail", "Personal Computer and Internet Basics", "Preparing Information: Printing and Scanning" and so on. The classes are conducted in groups as well as individually.
If you are interested in any of the learning courses - write us at the address: ickhersonlib@gmail.com
The Internet Center continuously conducts all sorts of events, such as "Internet Day", Art Party, exhibits, seminars, online conferences and others.
Events, Presentations and Virtual Tours
The newest direction of its studies and endeavors - web presentations and virtual tours. The Internet Center collection contains for example, the following:
· "Travels in Europe"
· "Centers of European Information in Ukraine"
· "The Library through the Century"
· "Healthy Life Styles" and others.
Attention, Instructors!! At your request we can prepare a virtual tour or presentation practically on any subject: from geography and astronomy to mathematics and literature. This will provide a valuable and interesting way to present an assignment, lesson or class hour.
You can send your feedback and suggestions to the following address: ickhersonlib@gmail.com
Regulations and Arrangements for Working in the Internet Center (ukr.) >>